FEVERBOUND DIZZY
Making release
Download it from DizzyAge:-
http://www.yolkfolk.com/dizzyage/game.php?id=190
or alternatively
Download it from Yolkfolk.com:-
http://www.yolkfolk.com/games/feverbound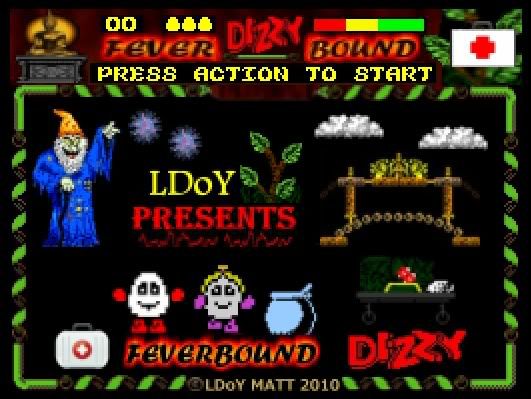 Please see the progress thread for the story or read the 'read me' file on download.
Some Gameplay notes:-
All items hiding coins have no use in the game.
There are 50 coins to find.
The gameplay map is just short of 200 rooms.
Will have to use the playing environment wisely
for placing of items.
The main game music is Boogie Fever
Hope everyone really has lots of fun playing and really really enjoys the game
So all dizzy fans of the community
Release History:-
Version 1.00 Initial Release 20/01/10
----------------------------------------------------------------------------------------
Version 1.01 Bug fixed so you can't get pass Zaks Poison Balls without destroying 22/01/10
----------------------------------------------------------------------------------------
Version 1.02 Customised tiles added to enable items to show up better against background
scenery 22/01/10 (credits to Colin)
----------------------------------------------------------------------------------------
Version 1.03 Wearing scuba whilst eating fixed & narrative message on exiting the library corrected 24/01/10
----------------------------------------------------------------------------------------
Version 1.04 The 'super jump' on entering Post Office room no longer will happen. Corrected typo when speaking to the lady on beach & corrected the yellow ribbon screen that you cant to jump over the tree to an additional room not used as part of the game 10/02/10
----------------------------------------------------------------------------------------
Version 1.05 Corrects bug on eye of beholder puzzle 25/04/10
----------------------------------------------------------------------------------------
Version 1.06 Corrects define variable on 'coin count' left in test mode 29/04/12